Jurassic World: Dominion Dominates Fandom Wikis - The Loop
Play Sound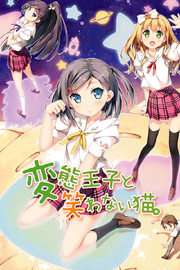 The "Hentai" Prince and the Stony Cat (変態王子と笑わない猫。 Hentai Ōji to Warawanai Neko.), also known by the shorthand HenNeko (変猫。) and Towanai (とわない), is a Japanese light novel series written by Sou Sagara and illustrated by Kantoku. Sagara's light novels center around a second-year high school boy named Yōto Yokodera.Yōto is always thinking about his "carnal desires," but no one acknowledges him as a pervert. He learns about a cat statue that supposedly grants wishes. The boy goes to pray that he will be able to express his lustful thoughts whenever and wherever he wants. At the statue, Yōto encounters Tsukiko Tsutsukakushi, a girl from his high school with her own wish — that she would not display her "real intentions" so readily.
Outline and Principal Characters
[
]
Yōto Yokodera is a second-year high school student who is arguably the biggest pervert at school. His problem is that he is not good at showing his real emotions. One day, his equally perverted best friend completely transforms and gets rid of his "impure thoughts"; a feat he attributes to the power of the statue of the "stony cat". As the rumors suggest, by wishing upon the statue and giving an offering, one can wish to remove a personality trait from themselves that one does not wish to have anymore. However, this will remove the unwanted trait and give it to someone who does need it.
As Yōto is making his offering to the statue, a girl named Tsukiko Tsutsukakushi arrives to make her wish to be able to be more like an adult and not show her emotions so easily. Both of them wish upon the stony cat and to their surprise the next day at school, Yōto is unable to tell a single lie, and Tsukiko is unable to show any sign of emotion whatsoever. After realizing that they do not like the change that happened, they work together to try and find out who has received their trait that was taken away in order to get it back. They meet Azusa Azuki, an attractive second-year girl who has just transferred into their school. She is always being confessed to by many boys in school, but she has no friends and is always alone. Yōto finds out that Azusa is the one that received his unwanted personality trait and tries to get it back.
List of Volumes
[
]
Gallery
[
]